Board of Directors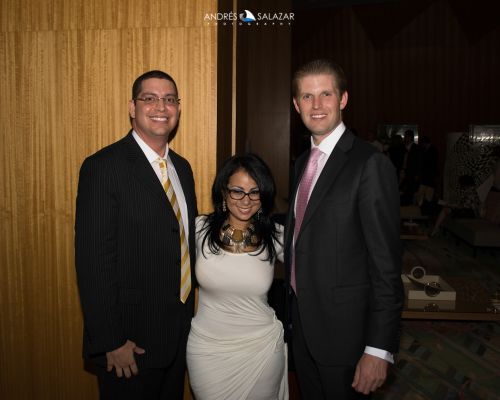 Arturo Miranda, director; Grace Aguilar, PR; Eric Trump, VP of the Trump Organization
Board of Directors
Arturo Miranda Castillo, Panamanian and Chilean, underwriter and director, has structured, financed and placed a wide array of complex financial and/or commercial real estate transactions having negotiated hundreds of contracts in between a global investor base of institutional, corporate and individual clients. He is president of the Investment Agents Association of Panama with registry 14/03/1991 which is a self-regulated organization and NGO #306 with resolution No. 100 issued by the Directorate of the Legal Department of the Ministry of Government. He has a Master of Business Administration from the Chapman Graduate School of Business at FIU, a Post-MBA from INCAE Business School and a specialization in financial markets, trusts and securities practices from ADEN Business School.
Patricio Miranda Castillo, Panamanian and Chilean, underwriter and director, has over 14 years of work experience and is currently project management team leader in global franchises for Enterprise Holdings, Inc. a US holding company with sales of fifteen billion and 74 thousand employees, headquartered in Clayton, Missouri. It is the parent company of car rental companies Enterprise Rent-A-Car, National Car Rental, Alamo Rent a Car, PhillyCarShare, and Enterprise CarShare. Enterprise ranks as the largest car rental company in the US with a global presence. He holds a Master of Business Administration from the School of Business & Entrepreneurship at Lindenwood University.
Noemi Lucila Castillo, founder and director, with over 40 years of professional experience. She has consulted for the World Bank and serves as board director in the Panama Foundation of Ethics & Civics. Has been 3 times member of the National Canvassing Board of the Electoral Tribunal of Panama for the General Elections of 2014 and 2009 and for the Panama Canal Expansion Referendum held in 2006. Has also been a member of the education committee in the National Assembly (Legislative Branch) of Panama. Has had consulting, advisory and/or other roles for the Inter-American Development Bank, the Organization of American States, PREAL, United States Agency for International Development, and COSPAE. She was corporate rector of Panama for Laureate International Universities, former executive director and president of the Council of Rectors of Panama, president of Iberoamerican University Council and co-founder in 1979 of USMANIA, R.L., a savings and loan credit union. She is a member of the Panamanian Association of Business Executives and the Association of Women Corporate Directors, Panama Chapter. Additionally she writes articles of interest for citizens in 'La Prensa'. She holds a Doctor of Philosophy from Western Colorado University and completed advanced post-doctoral studies in the University of Notre Dame.